Create a Report
You can generate time-specific reports for your RapidSpike monitors. Reports can be generated instantly or scheduled and sent to your email.
The reporting is separated into four sections:
Website Overview – This includes an Activity Report, Real User, Domain Expiry and SSL Expiry
Uptime – Platform League Table, Uptime Overview, 24h Uptime Data, Uptime Events
Journey – User Journey Data, User Journey Uptime, User Journey Results
Security – Attack detection
Creating Reports
Go to the Reports section and navigate to the report you want to create.
Click Add Report.
Choose between a scheduled or a one-off report.
Choose the websites or servers you want to include and a date range for your data.
Choose between a pdf or CSV file.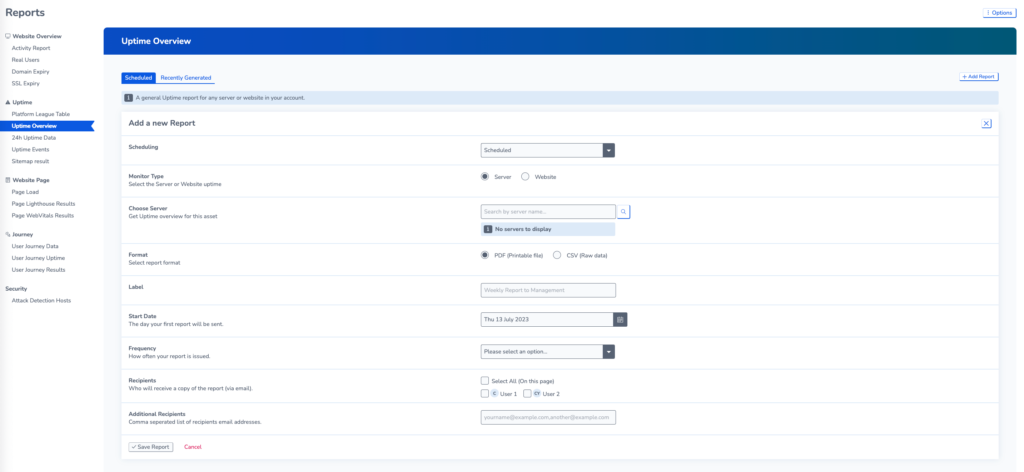 Scheduled Reports
Scheduled reports can be sent weekly, monthly or quarterly.
To create a scheduled report. Select scheduled when setting up the report. Choose a label for your report and select the users you want to receive the report via email.
You can also add additional email addresses who are not in RapidSpike.
Recently Generated Reports
Go to the Recently Generated tab to view a list of recently created reports.
You can re-download reports by pressing the Re-Run button.