What is Synthetic User Journey Monitoring?
A Synthetic User Journey is the path that a real user takes when using your website or web application. This journey starts when the user visits your website and ends when the user leaves your website.
Most websites allow users to complete one or more key goals. This might be to generate sales leads via a feedback form, for others, it might be to sell products via a catalogue, shopping cart and payment gateway. A User Journey is designed to define the series of steps a user would take to complete this key goal.
In many cases, the goals represent the business's primary revenue source – it's critical that all aspects of the User Journey run smoothly and without error or delay.
How can RapidSpike help monitor your User Journeys?
RapidSpike can help monitor your User Journeys by performing the same journeys as real users would from various geographical locations looking for both errors and delays in the User Journey process.
You can create a Script to mimic a real user performing various steps on the website or web application. This allows you to configure a range of complex User Journeys rather than just the same static test every time.
You may run the script across one or more geographic locations across the world and choose the frequency.
The User Journey will run at regular intervals using synthetic users emulating real user behaviour.
Why should you monitor a User Journey?
Monitoring User Journeys allow you to take a deeper look into the performance of your website or web application.
User Journeys help you to create a baseline of performance. Once you have a performance baseline for the User Journey you can then identify when the journey time deviates from the norm. This helps to identify emerging problems early so that outages can be avoided. In other words, when the User Journey starts to slow down it normally indicates that something is wrong. You could think of it as an early warning system.
Many on-page errors are hidden from the naked eye and are usually identified by accident or by a user. The User Journey monitor continually identifies these errors providing the web team with a detailed insight into the inner workings of the website or web application.
Most websites and web applications rely upon third party elements that may be hosted on another companies website. The slowing down or failure of these elements can have a detrimental effect on the user experience provided to your users. The User Journey monitor will identify such elements and keep a constant watch over them to ensure they are performing as they should.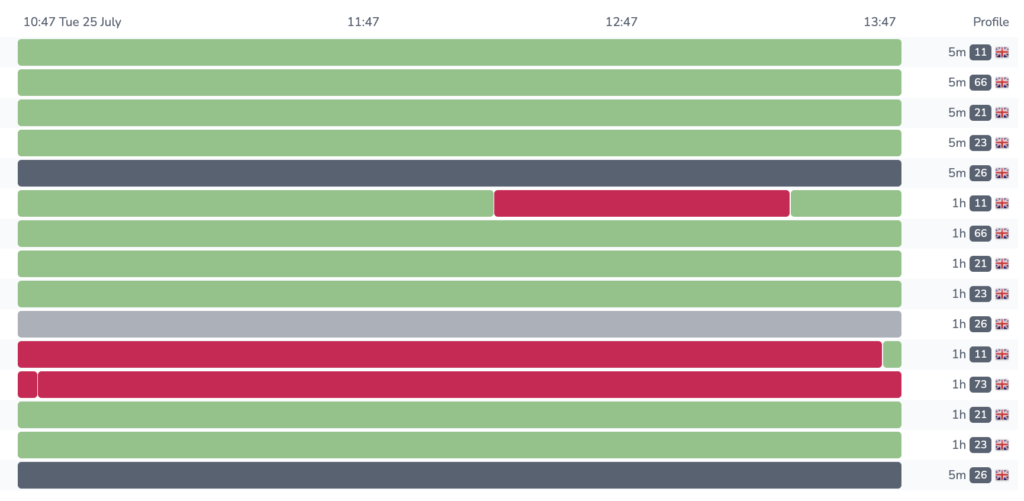 What is the difference between a User Journey and an Uptime Monitor?
An Uptime Monitor and a User Journey are complementary technologies. Both have a role to play in assuring a digital asset. The role of the Uptime Monitor, as the name suggests, is to ensure that the target is available or online. Think of this as your first level of assurance.
The User Journey goes to the next level as it is interacting with the application. The role of the User Journey is to check that critical processes are working in a performant manner.
For example, an ecommerce shopping website may be online but the product search may be broken or slow. In this scenario the uptime monitor would be totally unaware of this problem but the User Journey would. This is your second level of assurance.
What does the User Journey record?
A RapidSpike User Journey records the speed of the journey and the speed of all the page elements (images, scripts, files etc) needed to complete the action. The journey also records and flags page element errors. Alerts can be configured to flag slow or failed journeys and when an error is found.
What is a step in a User Journey?
User Journeys can be as simple as filling in a form or highly complex where the journey authenticates through multiple applications across multiple systems and data centres. A step is simply one part of the User Journey process. For example, landing on the web application login page counts as a single step. Every company is different but the User Journey is often simulating a critical process.
The lead capture form is critical to many companies so in this instance a simple five-step journey would be sufficient, such as:
Arrive at the Home Page
Click Contact Sales
Fill in an enquiry form
Submit the enquiry form
Check that 'XYZ' content exists