Get Started with Attack Detection
Attack Detection tracks data sent from your website (usually by Javascript). This can help combat Magecart attacks that can steal customer information on your site.
RapidSpike looks at where your website is sending information and marks these destinations as safe or untrusted. This works on both self-hosted JavaScript files as well as scripts hosted by a third party.
Where to find Attack Detection in RapidSpike
Go to Dashboards > Attack Detection to view the main dashboard.
This displays all your host data in one place. On this page you can:
View a list of safe and untrusted hosts
See how many checks Rapidspike has made on your site
Check how many hosts the monitor has scanned over the last 7 days.
Additionally, you can view a Safe List to review hosts you have trusted.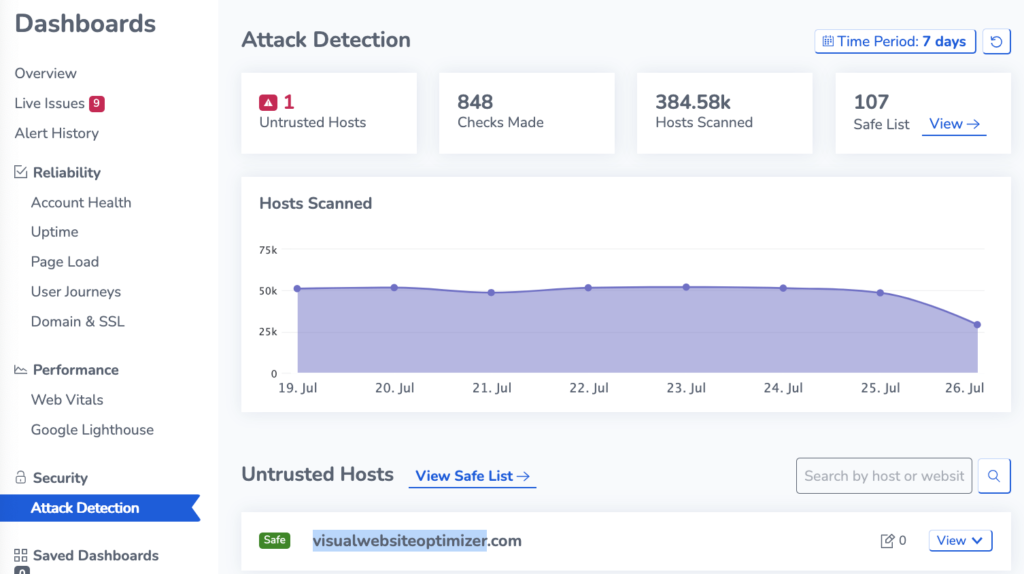 Get Set Up
Go to the main dashboard.
Make sure Attack Detection is enabled within your account. If you would like to enable it, you can request access from the accounts team.
Set up a User Journey including the page you want to check (e.g. the payment page).
Set up Real User Monitoring on your site (optional).
Go to Attack Detection > Options and Edit > Edit Attack Detection to navigate to the settings page.
Select the pages you want to protect. This tells RapidSpike the pages you want to monitor. You should select the pages where customers will be entering sensitive information.